The First RoboCup comptetition was be held in conjunction with IJCAI-97 (International Joint Conference on Artificial Intelligence) held at Nagoya, Japan from August 23 - 29, 1997.

Sponsors
RoboCup-97 is supported by following sponsors and supporting organizations:
Corporate Sponsors:

Nihon Sun Microsystems K.K.

Citoh Techno-Science Corp.

In Corporation with: ElectroTechnical Laboratory, Softopia Japan, International Academy of Media Arts and Sciences, Japanese Society for Artificial Intelligence, Robotics Society of Japan, IEEE R&A Society, Nihon Silicon Graphics-Cray Inc., Fujita Corporation, Net-One Systems, SOUM Corp.

Official Airline: Japan Airline Corporation (JAL).

Supported by:Chubu Bureau of Ministry of International Trade and Industry, Aichi Prefectural Government, and City of Nagoya.
Schedule
Overview
August, 22: Field Setup by RoboCup-97 Organizers
August, 23: Workshop, Press Conference, and RoboCup-97 Reception Party (Fun time!!!)
August, 24: Workshop and Dry Run
August, 25: Dry Run -- Preliminary rounds I
August, 26: Preliminary rounds II
August, 27: Preliminary rounds III
August, 28: Finals and Farewell Party
August, 29: Wrap Up Sessions
---
RoboCup-97 Press Conference (English/Japanese Bilingual)
RoboCup-97 Press Conference will be held on 23, August at SHIROTORI Hall, Nagoya Congress Center, starting 17:30 until 19:00, followed by RoboCup-97 Welcome Reception at Cafeteria Cascade from 19:00 (All press are welcome to attend). Inqurely should be addressed to:
Hitoshi Matsubara (Chair, Local Arrangement Committee, RoboCup-97)
ElectroTechnical Laboratory, Ministry of International Trade and Industries
matsubar@etl.go.jp

---
General Public Admission
RoboCup-97 Nagoya is a part of an international academic conference. Please understand that registered attendee of IJCAI-97 has priority in viewing RoboCup-97.
RoboCup Workshop to be held on 23 and 24, August is an official IJCAI program. Therefore, person who are interested in attending this workshop must register to IJCAI-97 (International Joint Conference on Artificial Intelligence), or they must be an official competition participants.
RoboCup Games to be held during 25 - 28, August 1997 is open to public, and ticket for The New World Expo (1,000 YEN) can be used for RoboCup-97 general public admission, which is available at Nagoya Congress Center.
RoboCup Final starting from 4:00PM at The Century Hall has 4,000 seats, and video playback of final games of small and middle size robot league will be presented with some technical discussions, and live broadcasting of the final round of the simulator league can be viewed. Since this is a part of official IJCAI program, official language is English. We will make efforts to use Japanese where appropriate.
CAUTION!: Please understand that RoboCup-97 is an academic event, and building robots to play soccer games are VERY difficult challenge. It is probable that games do not start at scheduled time, or we must have to cancel some games due to technical problems. In addition, there is space limitation for general public viewing due to space constraints of the SHIROTORI Hall, where competition takes place.
---
RoboCup Awards
Two types of awards will be presented in RoboCup.
RoboCup World Champion: to the first place winner of all leagues.
RoboCup Scientific Challenge Award: to the team which made most significant scientific challenge with some success.
The Second Place and The Third Place Awards to the simulator league
Aside from the world champion awards, RoboCup created and emphasize the RoboCup Scientific Challenge Award, to be equally prestagious award as the world champion. In spirit of promoting science and technology, RoboCup Scientific Challenge Award will be awarded to the team, which designed the team with original and significant scientific and technical concepts, or demonstrate significant contribution in one or more of AI and robotics research area using RoboCup domain. In order for a team to be eligible for RoboCup Scientific Challenge Award, the team MUST present scientific aspects of their approach during the workshop as a oral presentation or as a poster presentation.
---
Award Winners
RoboCup-97 finished as astonishing success attracting at least over 5,000 general audiences and 1,500 IJCAI attendee. The conference was reported in major media through the world such as CNN, ABC news/Good Morning America, Wired, BBC, WTN, BskyB, NHK, German TV, Der Spigel, etc.
Middle Size League:

World Cmapion Two team ended in draw in final and in prepreliminary games.


Dreamteam (ISI/USC) Wei Min shen et al
Trakies (Osaka Univ.) Minoru asada et al

Characteristics: Dreamteam (ISI/USC) is full on-board system. Trakies of Osaka Univ. used reinforcement learning to fully train their behaviors.

Small Size League:

World Champion
CMUnited (Carnegie Mellon Univ.) Manuela Veloso, Peter Stone, et al CMUnited use Layered architecture.
Second Place:
Nara Advanced Institute of Science and Technology Nara used on-board vision system.

Simulator League

World Champion
Humbolt (Humbolt Univ. Germany) using Case-based reasoning and agent-oriented programming
Second Place:
Andhill (Tokyo Institute of Technology) Ando using reinforcement learning
Third Place:
ISIS (ISI/USC) Milind Tambe et al using Soar-architecture

No world Champion this year for exhibition league
The RoboCup Scientific Challenge Award:
Sean Luke (Univ. Maryland) for demonstrating the utility of evolutionary approach by co-evolving soccer teams in the simulator league.
The RoboCup Engineering Challenge Award:

RMIT Raiders (Royal Merborune Institute of Technology) for innovative design of ball-based omni-directional driving mechanism
Uttori United (Utunomiya Univ. toyo Univ. and Institute of Physical and chemical Research (RIKEN)) for innovative design of wheel-based omni-directional driving mechanism
---
Results of RoboCup-97
Results and various photo.
---
Rules for RoboCup-97 Real Robot Leagues
The up-to-date rule for RoboCup-97 Real Robot Leagues is available. Basically, this rule is based on the RoboCup's Official Rule, but made slight changes to meet request of RoboCup-97 Participants.
---
RoboCup-97 Site Information
Hall
RoboCup-97 Competition field is the SIROTORI HALL at Nagoya Congress Center, which is about 1,200 meter square.

Photographs of the real set up for RoboCup-97
On July 31, the Local Arrangement Committee for RoboCup-97 actually installed a small size and middle size field at SIRITORI Hall. Photos can be obtained from following sites:
Nagoya Local Electric Shops
Information on Nagoya's Local Electric Shops
Small Size League Field Version 1.0
The first version of the small size league field was completed at our professional RoboCup field construction factory. Here are some photos (sorry for bad quality, we will replace with better photo soon.)

This is our RoboCup field factory. Two prototype play fields can be seen in the photo, with our professional craftsman.


Goal should be like this. In the final version, the height of the goal will be extended to 10cm, which is currently 5cm.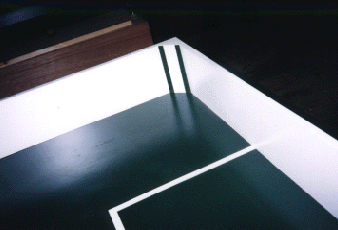 Corners should be like this.


Paddock System
We will going to have play fields, audience zone, and paddocks for each teams. An idea of having a Paddock for each team is from our French National Committee memebers Professor Dominique Duhaut and Alexis Drugoul. It is a small space adjecent to the play field and teams can fine tune their robots and software. It is located next to the academic exhibition of IJCAI-97, so that participants for IJCAI-97 conference will come and visit your paddock for technical discussions. All participants are supposed to put posters describing their approach.
Final Rounds and Summary
The Finals and summary of the RoboCup-97 will be broadcasted to The Century Hall, where the plenary sessions takes place.
---
The First International Workshop on RoboCup
The First International Workshop on RoboCup will be held on 23, August, 1997, at Nagoya Congress Center, Nagoya, Japan. This is an official workshop program of The International Joint Conference on Artificial Intelligence. Tentative Schedule A book based on the workshop will be published from Springer-Verlag.
HONDA Humanoid Robot and SONY Pet Robot
RoboCup workshop will feature a special session on recently announced epoch-making robots by HONDA and SONY. HONDA Humanoid Robot and SONY Dog-like Legged Robot.
---
RoboCup-97 Internet StreamWorks Live by FUJITA Corp.
RoboCup-97 will be broadcasted via internet using StreamWorks. This broadcasting is supported by FUJITA Corp. URL Address is xdma://134.180.49.5/robocup.ply. Please open your streamworks viewer, and type in above address. Streams Work Viewers can obtained from:
RoboCup-97 Internet Broadcasting and Official Video Recording System by FUJITA Corp.
The Internet Broadcasting and official video images will be recorded by the cooperation of Fujita Corp. Japanese description of the set up and Internet broadcast schedule is here
---
AI Magazine
Winners of Simulator League, Small-size robot league, and Middle-size robot league would be able to publish about 5 pages on scientific aspect of their RoboCup team in AI Magazine.
---
RoboCup-97 Participants
This is a lists of RoboCup participating laboratories, who are planning to send a team for RoboCup-97. We accept Late Registration particularly for Real robot league, but it depends on availability of resource (computers and schedule). Please contact us if you are interested. For those who are planning to participate, please let us know. (send e-mail to kitano@csl.sony.co.jp) We will create a link to your home page.
---
Simulator League Participants (33 Teams: U.S.= 8, Europe=8, Australia=2, Japan=15)
CMUnited: Carnegie Mellon University, USA (Peter Stone and Manuela Veloso)
FC Mellon Carnegie Mellon University, USA (Peter Stone, Manuela Veloso, and Justin Boyan)
ISIS: University of Southern California/Information Science Institute, USA (Milind Tambe)
University of Maryland, U.S.A. (Sean Luke)
NASA Ames Research Center, USA (Thomas Willeke)
Team Sicily: Stanford University, U.S.A. (Lyen Huang)
Georgia Tech., Mobile Robot Laboratory, U.S.A. (Tucker Balch)
University of British Columnbia, Canada (James Little)
University of Oulu, Finland (Jukka Riekki)
Charlmers University of Technology (Jan Christensen)
Humboldt University, Germany (Hans-Dieter Burkhard, et al.)
The University of Padua, Italy (Enrico Pagello)
MICROB: Universite Paris VI (Dominique Duhaut and Alexis Drogoul)
LAI: Universidad Carlos III de Madrid, Spain (Vicente Matellan Olivera)
RM Knights Royal Melbourne Institute of Technology (RMIT), Australia (Simon Ch'ng and Lin Padgham)
Royal Melbourne Institute of Technology (RMIT), Australia (Paul Scerri)
ElectroTechnical Laboratory, Japan (Ian Frank)
Team GAMMA: ElectroTechnical Laboratory, Japan (Itsuki Noda)
Tamachinas: Aoyama Gakuin University, Japan (Daiji Tamagawa).
Nagoya Institute of Technology (Takahito Hotta)
Toyohashi Gijutsu Univ. (Keiji Kanameda)
Kinki University, Japan (Shougo Kosue)
Kinki University, Japan (Tomohiro Ichimura)
Chuubu University, Japan (Tomoo Inden)
Chukyo University, Japan (Susumu Takagi)
Inoue&Wilkins : Waseda University, Japan (Naomichi Inoue)
Ogalets: University of Tokyo, Japan (Ogawara)
Tokyo Institute of Technology, Japan (Tomohiro Andou)
Tokyo Institute of Technology, Japan (Masayuki Ohta)
Orient: Toyo University, Japan (Akihiro Matsumoto and Hiromasa Nagai)
Team Garbage Collectors: Justsystem (Hideto Tomabechi)
---
Small Size Robot League Participants (4 Teams, as of 11 August, 1997)
CMUnited Carnegie Mellon University, USA (Peter Stone and Manuela Veloso)
MICROB Universite Paris VI, France (Dominique Duhaut and Alexis Drogoul)
University of Girona, Spain (Oller, Rosa,..)
Nara Institute of Science and Technology, Japan (Takayuki Nakamura)
---
Middle Size Robot League Participants (5 Teams: as of August 12, 1997)
Dreamteam University of Southern California, Information Science Institute, USA (Wei-Min Shen, et al.)
Ullanta Performance Robotics, U.S.A. (Barry Werger)
RMIT Raiders: Royal Melbourne Institute of Technology (RMIT), The Department of Computer Systems Engineering Research Center, Australia (Andrew Price and Andrew Jennings)
Uttori United: Utsunomiya Uni., Toyo Univ., and The Institute of Physical and Chemical Research (Riken), Japan (Kazutaka Yokota, Hajime Asama, et al.)
Osaka Univ. Japan (Asada Lab.)
---
Expert Robot Exhibit
Colorado School of Mines/Golden, U.S.A. (Robin Murphy)
Royal Melbourne Institute of Technology (RMIT), The Department of Computer Systems Engineering Research Center, Australia (Andrew Price and Andrew Jennings)
Photos
Set up and test run
Middle Size Test 1
Middle Size Test 2
Small Size Test